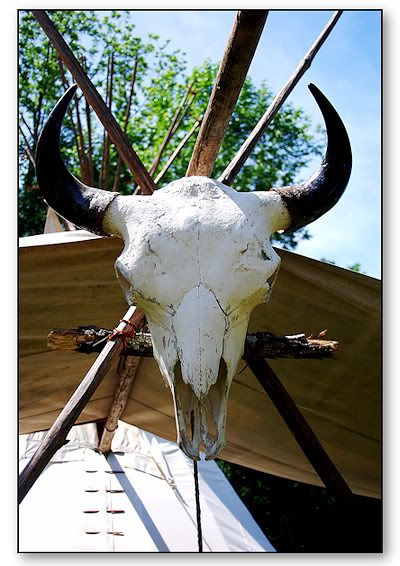 This photo is from the archives. Earlier in the year Saint Gene and I went to an Indian Festival (we took my mother, too). I had hoped to get some interesting pictures of the dancing but, unfortunately, there wasn't any during the time we were there. The glorious weather we had this weekend made me think about the few pictures I took since that weekend was also a weekend of beautiful weather, so I decided to post one of them since I don't have any recent pictures.

That "mess o' misery" I had is still hanging around in the form of an irritating cough but I'm hoping that the good dose of sunshine I got this weekend took care of that.

Our deck got a lot use this weekend. There was an early hint of fall and we made the best of the low humidity, low temperature, no rain and lots of sunshine. Saint Gene got to work in the yard since I was there during the day to help look after my mother and I got to relax and enjoy our fish pools and the waterfall (and not being at work).

We're now down to 6 tomato plants, the other 9 went on the compost pile this weekend, and their place in the planters was taken by some lettuce seeds and sugar peas.

The Topsy Turveys were dismantled. They were a disappointment, producing nothing but golf ball sized tomatoes and not in any great abundance either! Next year Saint Gene is going to try planting cucumbers in them. If they don't do anything, then in the trash they go. (He's optimistic, I'm not.)

We're thinking of renaming Ebony to Dora the Explorer. She had more fun this weekend exploring our large back yard (yes, it's fenced in). She is so small that when she gets under the impatiens you can see only the tip of her little black tail moving the flowers around. She is so much fun.

A wonderful weekend.
Joy Journal

: Butterflies in the sunshine