It's been a busy week!
Monday was my birthday and Gene and I went out for a nice dinner at Outback Steakhouse. I don't really like to make a big deal over my birthday so a nice dinner was what I really wanted. Thursday night I drove to Buford to the studio of Barbara McGuire to meet Barbara Verni-Lau and some other friends from the Blue Ridge Polymer Clay Guild. They were taking a class and when they finished we all went to dinner at the Red Lobster. Had a great time visiting with them! They are such a friendly group and make me feel quite welcome. We're all excited about the upcoming August Clay Play Day. Barbara V. is going to demo the "shaving cream" bead technique and that should be great fun!!
Saturday we drove to High Falls and met my mother, brother and sister-in-law for a dinner of all-you-can eat catfish. It was a joint birthday dinner for me and my mother. She turned 83 today. She is so frail looking. It's true, old age is not for wimps. This is a scrapbook page I did in her honor: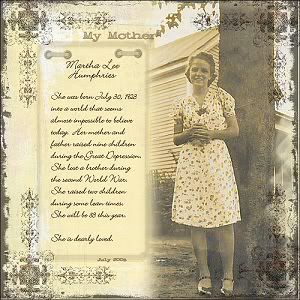 Today I drove AGAIN to Buford (65 miles one way) for an open house/play day at Barbara McGuire's studio. This was set up for the members of the Greater Atlanta Polymer Clay Guild. I helped Barbara move extra tables into the studio and she ended up having to have her boyfriend bring card tables and chairs from her house. The final tally was approximately 22 people in a studio that usually seats 6. I showed the women at my table how to do a toner copy transfer using water but didn't really play too much with my clay. No one else at my table brought a pasta machine (!) so I spent way too much time running their clay through my machine. I did make a black, red and white mokume gane stack that I think will be fun to play with tomorrow night. Should make a cool pendant and some earrings. Afterwards we all went over to Barbara's house for a barbecue! Now that's hospitality! Give us free working space, loan us any tools we might want to use and then feed us free of charge. She is a really nice gal. Not sure what Gene did all day but I'll bet it involved learning some new magic tricks.