And we're taking ALL of the credit!!!
Saint Gene (in the middle), my brother and Me.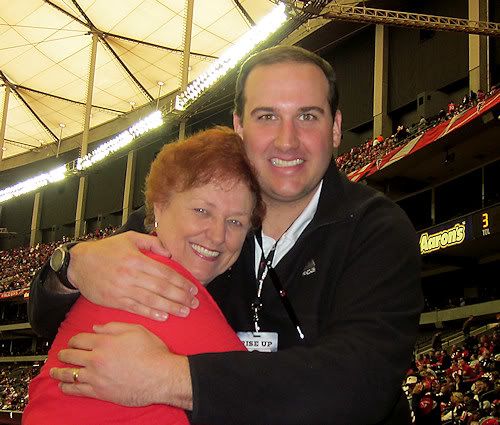 Me and Sweet Brian (My Falcons Organization Hero)
So I'm talking one day to one of the attorneys for whom I work (Courtney) about the Atlanta Falcons games and how much fun it must be to go to the games - she's married to a guy who works for the Atlanta Falcons in their public relations department. Next thing I know she's on the phone with her husband, Sweet Brian, and I am the recipient of 4 tickets to the Tampa Bay game!! Plus an extremely valuable parking pass for a VIP lot almost RIGHT AT THE DOOR to the Georgia Dome. Wow! I immediately sent my brother an email and invited him and my sister-in-law, Jane, to come to Atlanta and go the game with us. He and Saint Gene really deserved a special day. I scheduled a sitter for my mother through a program we have here at the office.
We parked in amongst all the huge RV's and Monster trucks and their incredible tailgating outfits (and did it ever smell good in that parking lot!) and walked across the street to the Dome. We made it to our FRONT ROW second level seats. We hadn't been seated very long when Sweet Brian showed up with a gift package - Falcons hand towels, tote bags, banners, Chick-fil-A cow toys and even a Falcon's hat! Talk about feeling special!!!
We had a wonderful view of the field and it was a great, exciting game. I tried not to yell too much, didn't want a sore throat since answering the phone is part of my job, but it was hard to hold back. And the Falcons won, 27-21. They managed to keep Tampa Bay from scoring from the 2 yard line with only a minute or so left to play!
Unfortunately, my sister-in-law had to cancel at the last minute so she didn't get to join us and the only thing that would have made the outing more fun would have been to have her with us.
After Johnny got on the road back home, Saint Gene and I went out to dinner together for the first time since Memorial Day Weekend. It was wonderful having a date night with my husband and a fantastic end to a fantastic day! What a wonderful memory we now have.
Joy Journal

: Just about everything about the day!