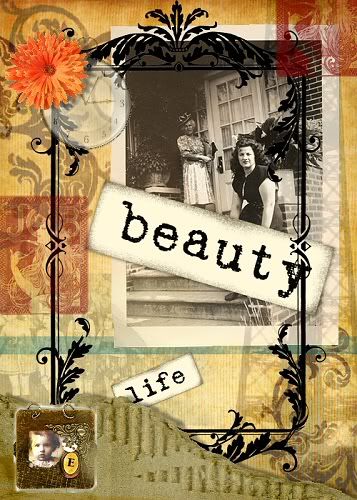 I've had quite a few days off this month, 11 days between Christmas and New Years and then another 7 days for "Snow Week" (I live in Atlanta). Consequently, I've had more time to play and above is one of my attempts at digital playing. I don't know any of the people in the photos, they are just old photos found on the web

(on royalty-free and non-copyrighted sites)

that I liked and I decided to incorporate them. The other elements are from different digital scrapbooking sites that I used to frequent. I love old photos and used to collect them until the sheer number of them got unmanageable. I love to restore them, digitally cleaning up the tears and folds, trying to retain the old look and yet make them look like "new" old photos at the same time. I don't want to lose the vintage look or turn them into black and white. The sepia tints look better to me!

I would love to know the story behind the photo of the two women. There's something about this photo that speaks to me - it's mysterious, it's well composed and the generational difference between the two makes me wonder about their connection.

I've also been doing a lot of beading and have made some (to me) gorgeous bracelets - lots of glitter and glitz and "ooh, sparkly!!". Sorry, no photos yet. Photographing jewelry requires either some expensive (again, to me) equipment which I don't have or good daylight which we've had very little of lately. But I WILL get some photos of some my jewelry pieces. Promise. Sort of. Maybe. Saturday is supposed to be nice so maybe?.....
Joy Journal

: The house painter really liked my choice of colors!