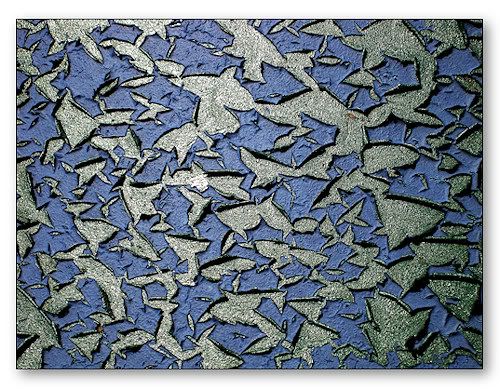 It's amazing how changing your point of view can make a difference.

Saint Gene and I had a rare chance to go out for breakfast last Saturday and we decided to go to the Cracker Barrel. The place was running over with people which meant that there were no convenient parking spaces. So we had to park in the back of the building, way out on the edge of the parking lot, next to the dumpsters, an old sign pole, etc. Not the most scenic of spots. As I was walking toward the sign pole I noticed that at one time it had been painted, obviously a long-past time since the paint was in pretty bad shape. I thought to myself, "They really should spruce this area up a little bit." But as we came closer I noticed what a great pattern the peeling paint made. Getting closer had literally "changed my point of view." I physically saw it in a different way. So I took this picture.
One afternoon back in the fall I went to a coffee shop which had the most gorgeous Bradford Pear trees along the side. The leaves had turned a dark, purple red but they came out really dull in the photographs I took. So I put my camera away and went in and got my coffee. I decided to sit outside and drink the coffee and walked to a table that was on the other side of the trees. Wow, what a difference my changed point of view made. The leaves now had the sun shining through them rather than on them. They looked like they were on fire. No longer a dull red, instead a brilliant lit-from-within orange red glow.

You think maybe there is a life lesson here?
Joy Journal

: I gave my boss some prints of some of my photos as a Christmas present, a little unsure about their suitability as a gift. Today, she asked if she could BUY another one! Guess she liked them!