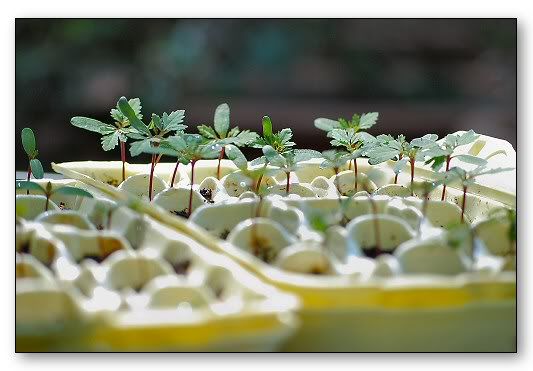 The photo above gives me a warm and fuzzy feeling. It's the last few of my little French dwarf marigolds happily growing in their baby beds, the egg cartons. There were 36 "cups" in the egg cartons and we had about 45 little plants (some of the cups had two seeds in them and only 3 cups didn't produce at least one plant). All of the marigolds have now been moved into their permanent homes - flat saucer-like planters. I'm not sure how they will do in these planters since the planters are relatively shallow but we're going to try it anyway. This has been a season of exploration for us in our gardening and we are having a blast.

And I didn't eat the little cherry tomato yet. It stills needs a few more days on the vine. But it won't get too many more days - my taste buds are primed!!
Joy Journal: Playing with my big girl camera this morning!