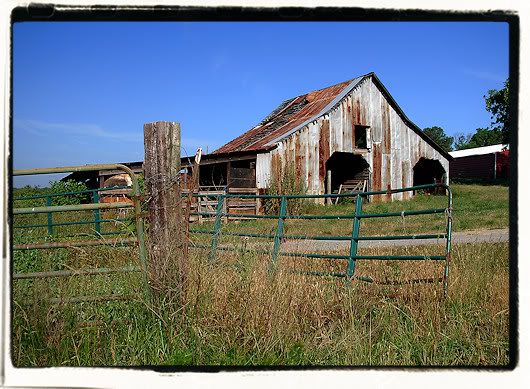 I was out and about last week, making a trip to the Social Security office (ouch, that hurts to even say it!) and on the way I saw this wonderful old barn. All of a sudden the photography bug bit me and I couldn't wait to get finished at the SS ofice so I could come back and take photos. It felt really good to have the time to play with my big girl camera again. Unfortunately, the sun was already high in the sky when I got back to the barn so the exposures are kind of "hot" but I'm still very happy with the resulting pictures. The old barn looks abandoned but it really isn't. It is actually a working horse barn (even though I wouldn't want to be the horse who had to stay there). I walked around for over an hour taking pictures and never saw a person. I did see some horses coming in and out of this and another, newer barn but they weren't too sure about that old woman pointing that big black thing at them so everytime I would approach the fence they would move behind another building. So, no horse pictures (this time). I am definitely going back to this location, and I'm going soon. I think there is some serious potential in this location. I'm going to try to get up early (groan) and see if I catch better shadows and also go late in the day during the "golden hour".

It feels good to once again want to go out and take pictures and I couldn't have found this old barn at a better time.
Joy Journal

: Peggy's

GORGEOUS

artwork in my journal!