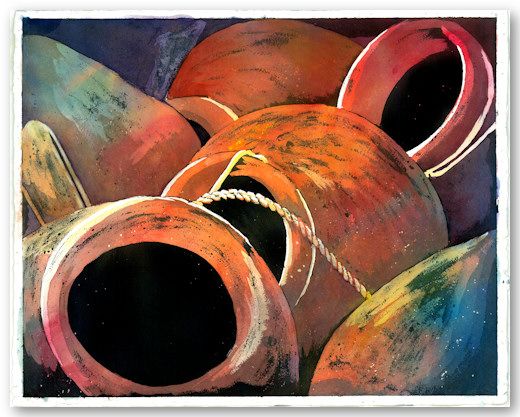 Three Clay Pots - 16"x20" Watercolor on Arches 140 lb. paper
In September I went to Boone, NC to take a 4-1/2 day class with Linda Baker at Cheap Joe's. This was my first painting class and I had a wonderful time. I did two paintings simultaneously - work on one, while the first one is drying work on the other one - and managed to get both of them almost completely finished. I finished the final touches on them after I got home. The one I like the most is shown above. Linda is a very warm, engaging person and was very, very encouraging about my work. She even suggested I start entering some competitions (!!) but I don't think I'm quite ready for that yet (if ever). The weather was gorgeous and we sat outside each day to eat lunch. And I must say it is almost too convenient to have the workshop space located in an art suppy store. And a wonderful workshop space it is!! Cheap Joe's is a class act all the way around. Boone is in the North Carolina mountains and I would love to be there when the leaves are turning colors.

I'm finding a lot of joy in my painting. And I'm beginning to get a little more confident in my abilities.

Joy Journal

: Getting a small painting framed.