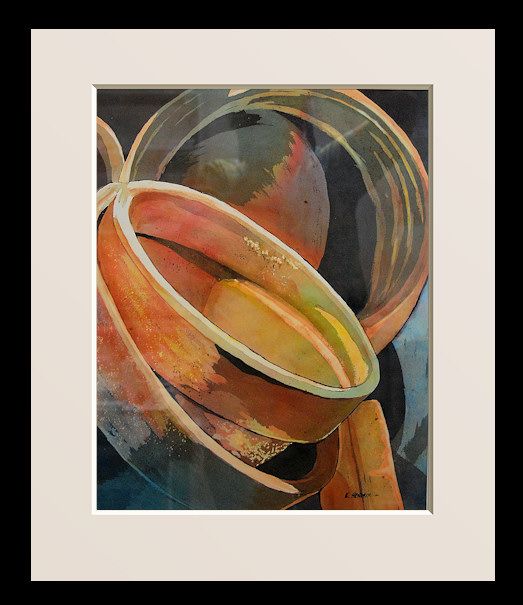 "Garden Pots" - 16- x 20-inch watercolor on 140 lb Arches paper

No, this isn't a painting of Christmas - it's a painting FOR Christmas. This is what I gave my brother and sister-in-law for Christmas this year. She had been wanting one of my paintings of old cars but I didn't think the old cars theme would work for their living room (I already knew where they would hang it). So I painted one especially for them that I thought would fit better. My very first signed painting. And also the first one to leave my house. I find that I'm very attached to my paintings and want to keep them all!! Anyway, both my brother and my sister-in-law seemed to be very thrilled with it. I hope they genuinely liked it. I did tell them that if they ever decided to part with it, it had to come back to me. I didn't get it scanned before it was framed - ran out of time - so you can definitely see some glass reflections in the photo I took but they aren't terribly obvious. Well, except for the doorframe and the outline of the photographer, that is.

We had a quiet Christmas this year. We spent Christmas Eve and exchanged our gifts at my brother and sister-in-law's house followed by a meal of home made soup (made by ME!) and baby cornbread muffins. Very tasty and relaxing. Then we joined my brother and sister-in-law and their kids and grandkids Christmas Day for dinner. The following morning we came back to our house. It always feels good to be back home. I really miss having Christmas with my mother at her house. It just isn't the same anymore. During her long illness we had our Christmas here at our house and my brother and his wife came up on New Year's Day. Next Christmas we might take a trip someplace, maybe a cruise.

.

Joy Journal

: An old favorite song on the radio.