Today is my 41st wedding anniversary. Gene and I were married in Warner Robins, Georgia at Robins Air Force Base 41 years ago today. Gene was an Airman First Class and I was a clerk at the local bank. We lived in a mobile home for the first 4 years of our marriage. Gene left to go to Vietnam on the day of our first wedding anniversary. And he returned on the day of our second. That separation has really given me a feel for what our troops and their families are going through right now. But God has really blessed me in my marriage. I 've been so fortunate in the man I married. Gene is a good, kind, funny, compassionate and understanding man. The kind of guy you overlooked in high school because he was "too nice." The man does not have a mean bone in his body. If other husbands treated their wives as good as he treats me, there would far, far fewer divorces. No, he's not perfect. But he's perfect for me. Hey, all you gals out there who are attracted to the "bad boys" of this world - you don't know what you're missing!!! Thank you, dear husband, for putting up with me and my quirks, bad moods, bad housekeeping and arts/crafts "warehouse" (my craft room) for 41 years. And, yes, I would love for you cook me a steak dinner tonight (yeah, that's right, eat your heart out, he really did volunteer). Did I mention that he cooks, too?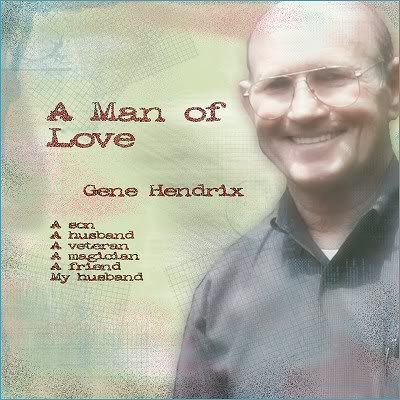 Had a great series of email exchanges yesterday with CoffeeQueen (Laurie) of Scrapbook-Bytes. It's nice to get the feeling that you are beginning to know some of the regulars who hang out there or are DTMs, etc. Even on-line communities can get a little clique-ish and it's great to at least put one foot in the door in the community. Laurie, it was nice to "meet" you and your blog is the first one I've added to my "blogroll" (sure glad I found out what a blogroll is!). SBB is making a lot of "behind-the-scenes" changes and hopefully will be back on track before too long. Maybe then we'll be able to bring back the members of the digi-scrapping community who have moved on to other locations. I hope. The forums at digishoptalk are really hopping right now. Of course, it's like restaurants, it's the newest place on the block so everyone wants to be seen there right now. And I will say that I notice that the digishoptalk administrator is a frequent contributor to the forums so we know she's paying attention. I haven't posted very many layouts there, I intend to continue with SBB and give it a chance to become the site it used to be. But I sure hope it's soon. I've seen posts from Amy showing up more frequently in the forums lately so I think she is beginning to once again put some time and effort into the site.
Happy Anniversary, my love. It's been a wonderful 41 years.