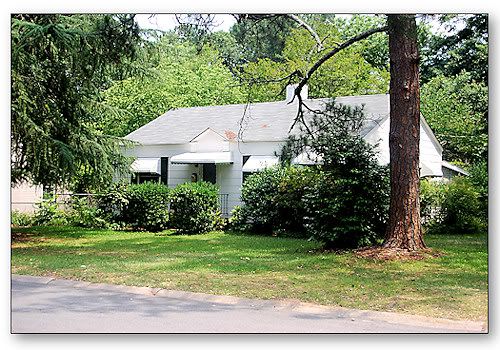 Watching my mother shrink further into her shell is a painful process, both for me and for her. She knows something is wrong but she doesn't know what it is. The chances I have to talk with her and ask her questions and learn more about her life are becoming fewer and fewer. But today was a good day, a day when she was lucid and her memory was good.
We talked about our memories of the house above, the house where my Grandmother (her mother) lived when I was very young. It was across town from where we lived, but it was still in walking distance (tells how small a town it was, right?) so we often walked over there.

We talked about the next door neighbor who gave me, a skinny little 6-year old, 3 or 4 old formal dresses (or "evening gowns" as they were known then) to play with. I felt like a true princess when I had on one of those old, frilly gowns. Of course, they were huge on me, but that didn't matter. I was beautiful when I had them on.

We talked about the time my brother and I set the side porch on fire (it's hidden by the big camellia shrub in the picture). We took a box of matches outside, snuck them out of course, and started lighting them. The porch had a sheet of plastic over it to screen out the weather and we caught the plastic on fire. No serious damage was done to anything but our little backsides, but it sure is a clear memory!
We talked about the fireplace in the living room which would keep you warm but only one side at a time and kept our hands dirty because my grandparents burned coal, not firewood.

We talked about the moon vine that used to be planted on the fence you can see and how we used to sit out at twilight watching fireflies and trying our best to see the flower move as the beautiful white blooms opened in front of us. They would open in a matter of minutes but we never could see them move! It was such a mystery.
And then she got sleepy and we weren't able to talk anymore. But the short interlude was a true blessing.
The picture was made about two years ago. It was much, much longer ago that my grandparents (and sometime my family, too) lived there. The house is much smaller than it was in my memory. I remember the yard being huge. It isn't. But it was big enough for us to have our Easter egg hunt there! Memory is such a fragile thing.
Joy Journal

: A really funny email.