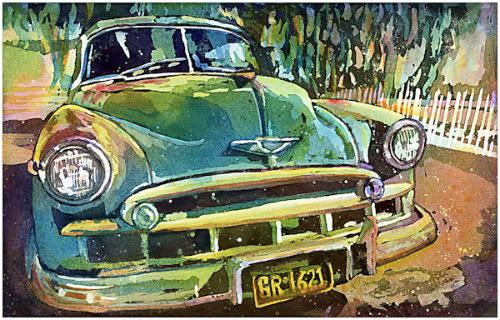 I promised I would show my painting so here it is. It's a 1948 Chevy Coupe. A very talented photographer friend of mine took the picture and I loved it so much I wanted to try to reproduce it for my watercolor-style acrylic painting. Yes, I had her permission to do so. (Thanks, Suzanne!) It's small, only 5" x 8", which actually made it a little harder to do. Many layers of masking fluid and many layers of watered down Golden fluid acrylics later, this is the finished piece.

This is actually the second watercolor-style painting I've done, but the first one is too big to scan and I haven't managed to get a good enough photo of it yet. It's 15" x 15" and, surprise!, it's of the side of a rusty old car. Ok, so you aren't surprised. After all, you know me and my addiction to rust.

Both paintings use a technique I learned (and am still learning) from a DVD by Linda Baker and from the experience and guidance of a friend who is also an artist. She and I had more fun painting our little hearts out in her home studio, pouring paint, flicking paint and just generally making a mess while also creating paintings that we were both proud of. Then I came home and used those same techniques to create my painting shown above. I'm addicted now. The technique is designed for watercolor but I didn't want to invest in a whole new medium - watercolor paints can be ridiculously expensive - so we decided to use fluid acrylics thinned down like watercolors. Both mediums have their advantages and disadvantages. If you make a mistake with watercolors, you can usually lift the color off the paper and get pretty close to being back at pure white. If you make a mistake with acrylics, you live with it or disguise it. However, watercolors dry lighter than they look when wet, whereas the color you see is the color you get with acrylics. But the major advantage of acrylics was that I already owned the acrylic paints.

I don't want to imply that I've never painted before. I have done a little bit of painting, not much, but always non-representational, all abstracts and collages, etc. And I loved them and will continue to do them. But this watercolor type of painting is a whole different animal for me and it's an exciting new adventure for me. I'm excited to see where it takes me!
Joy Journal

: A warm, sunny fall day