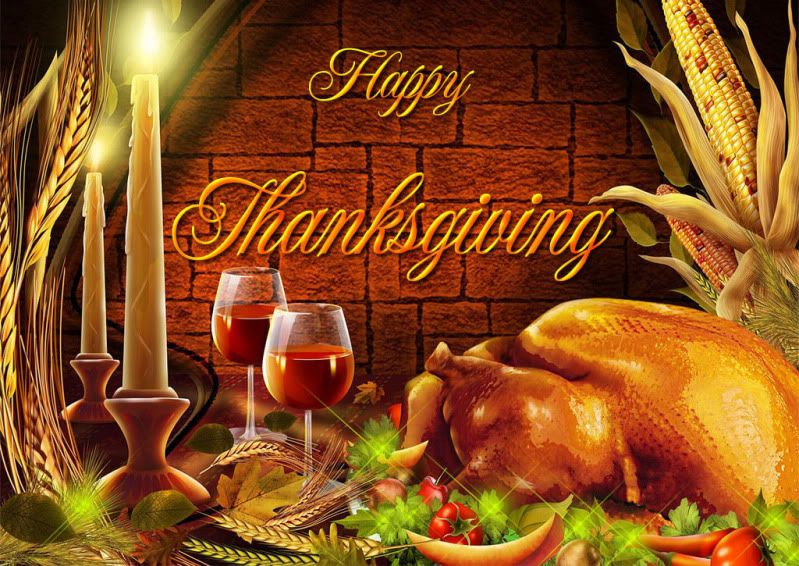 Picture from the internet
Happy Thanksgiving Day everyone.

What am I thankful for? Yes, I'm thankful for the major things like a home of my own, food on my table, a loving family, but I'm also thankful for a lot of small things:

The waitress who gave me especially good service.
The cop who just wagged his finger at me the other day instead of giving me a speeding ticket.
The friend who wrote me the nice email the other day.
The unexpectedly large discount on my software upgrade.
The successful halving of a traditional family recipe (there are only 3 of us!)
An incredibly beautiful leaf that landed right at my back door.
Bell pepper plants that are still producing peppers even in the colder weather and shorter days.
Caring Hospice nurses and aides.
Getting an unexpected and very welcome personal freebie from an internet vendor I've bought from but never met.
Progress in my decluttering.
A nice little cuddle nap with my two little dogs.
Finding a lost earring that I really, really liked.
Friends who keep in touch even though I've retired.
Good memories

And now I'm going to finish cooking our Thanksgiving Dinner. Then I'll wake my mother (she sleeps most of the time), interrupt Saint Gene's football game watching and serve our turkey, dressing, butter beans, okra, green beans, macaroni and cheese and sweet tea and be thankful for all my blessings, of which I have many.

Peace and Love to all of you and Happy Thanksgiving.
Joy Journal

: Being able to make "Mama J's" dressing for dinner